As previously mentioned the largest projects often start with an idea sketched out on the
back of an envelope
.

World renowned gun makers Holland & Holland had been commissioned to produce a comprehensive set of shotguns and rifles for a private collector.

The clients idea was a piece of furniture in the style of a Campaign Chest, to house and present a set of 5 shotguns and 5 rifles, a full set of tools, cleaning accessories and boxes of ammunition. This later became known as The Millennium Battery.

The chest made in both solid Oak and veneer was to appear to be made in two parts, hence the large brass handles bolted to the panelled sides. Each drawer was fitted out in the style of a gun case, partition fitted and lined in leather. The drawer had to be easily removed so that it could be sent back to the U.K. as each gun became available for fitting. The domed upper section is hinged back revealing the set of horn and nickel tools and gun cleaning accessories, made by Mike Marsh. 'Winged' sections hinge out with recessed barrel rests to support the guns that can stand on slides that spring out of the plinth.

All the brassware except the drawer handles were made in our workshops including the two locks that retain the lid section .

The final touch was a 'trade label' in English Sycamore veneer inlayed with Ebony.







Copyright © 2008 Vincent
Rickards Website by
Karmaan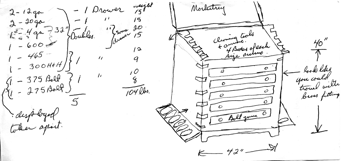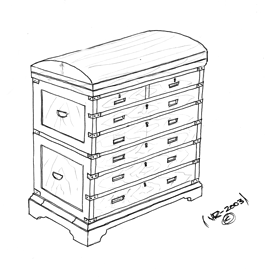 Clients original rough idea sketched on the back of an envelope
Vince Rickards, worked up sketches from clients idea